Leehom's 18 Martial Arts signing session last Saturday was held at One Utama.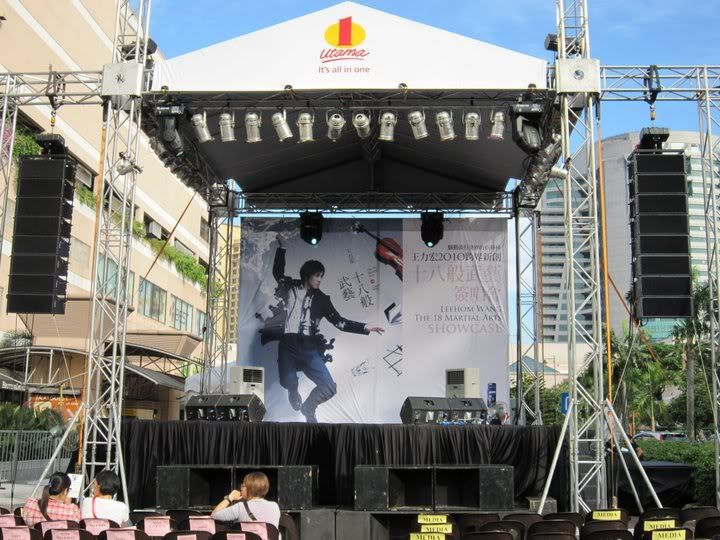 It's been a very long while since I saw such a big turnout for a signing session in KL. The queue for the event which was scheduled to start at 6:00pm had swelled by early afternoon. Not surprising at all. This is Leehom afterall. The music man whose KL concerts never fail to attract a full house audience, no matter how big the stadium is. The turnout for his autograph sessions in KL is probably far larger than what some artists see at their concerts LOL
The event also saw a big turnout from the media industry. I've never seen so many media in a local signing session - including media from the non-Chinese segment.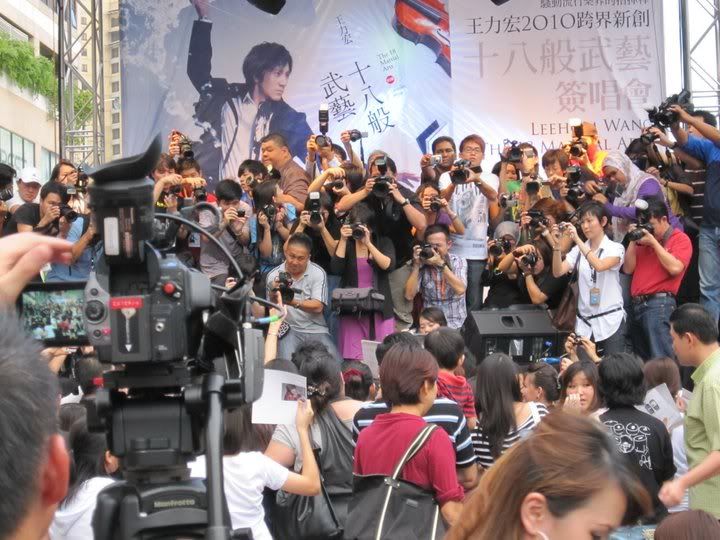 can you spot the homeboy?
Leehom didn't appear onstage till almost 6:30pm. Apparently Leehom was originally suppose to sing 3 songs. It was later cut down to 2 songs and finally just one song [你不知道的事], in the interest of time as he had a flight to catch later that night.
Leehom had to take a toilet break in between signing. After consulting with his people, he jumped into his car and went back to the hotel for a brief toilet break. When he came back, he patted his tummy with both hands and gave 2 thumbs up LOL
Due to the overwhelming crowd, Leehom couldn't sign all the CDs as he had a flight to catch later that night. When it was first announced that Leehom couldn't sign all the CDs, the crowd got rowdy. I saw some fans jumping over the barrier to get into the last queue for signing. Those who were still behind the barrier were pushing and shoving. A couple of fans were seen crying when they heard the announcement.
Leehom stayed on for a bit to sign more CDs and left about 9:25pm. By then he had already signed 7,000 copies of 18 Martial Arts @.@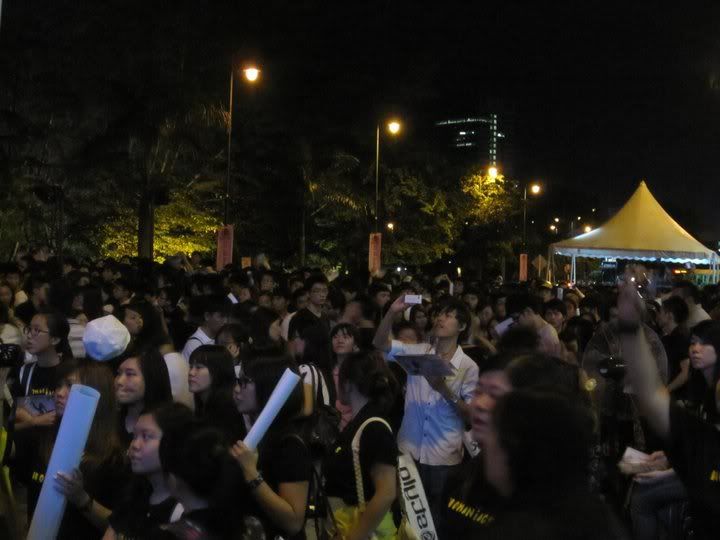 part of the crowd at 8:20pm
Some years back he infamously sprained his wrist after signing too many CDs during his signing session here. The year after when he returned for the concert signing session, the organiser, fearing that he may sprained his wrist again, arranged for Leehom to "stamp" concert posters instead of signing. haha!
All Homeboy photos by bloodbubble 2010