Up until last Saturday, I had no idea what or who Best World Lifestyle (BWL) were. All I know was Mayday were invited to perform at a charity concert in Singapore on 12 June 2010. Little did I know the event was actually BWL's 20th Anniversary Celebration.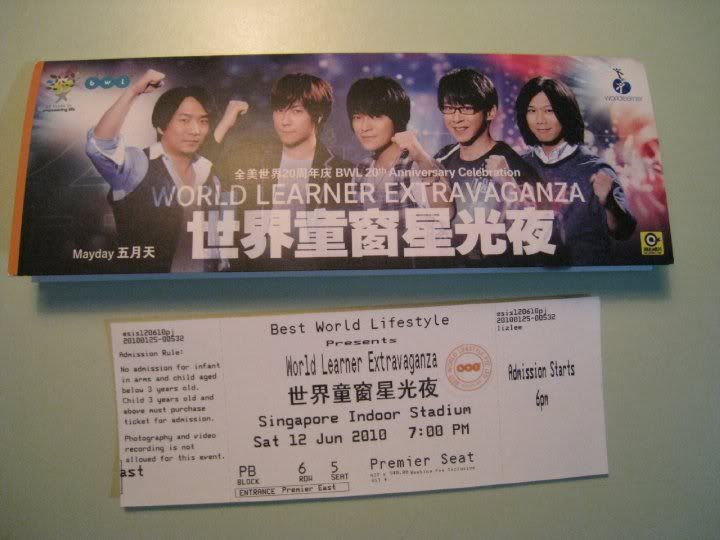 Through a friend's friend we managed to secure seats in the premier section. I never got to view the seating plan so I had no idea where exactly my seat was till I entered the Indoor Stadium. Upon entering, I was surprised to see how small the premier section was. There were only 8 rows in total and almost all the seats were taken up by BWL's VIP members who were all elegantly dressed up for the night. I felt underdressed sitting between them. Maybe that was why the lady beside me who was fiddling with her iphone all night kept looking over.


As I looked around, I could see no more than 5 other Mayday fans in the premier section. Seated right behind me was Kelly and gang, whom I had met the weekend before at the KL concert. And across the block in PA section were 2 other fans we had seen earlier that afternoon at the My Mints Product Launch Press Conference.


The event kicked off at about 7:30PM and we sat through 3 solid hours of boring speeches, various performances, prize presentation, etc. zzZzzz. Mayday appeared onstage about 10:30PM and sang for about an hour or so. It was refreshing to see them in a non-DNA mini concert. Setlist included songs not sung in the DNA setlist. I loved when they sang 終結孤單. It's been awhile since I last heard that live. Funny moment when Ashin dropped his microphone while singing that haha! And it so happen I was recording when he dropped the mic -->
view video
Other songs included DNA, 天使, 離開地球表面, 戀愛ing, 知足 and they also threw in lesser sang songs 聽不到 and 天天想你
host on the left called the drummer "Yen Ming" LOL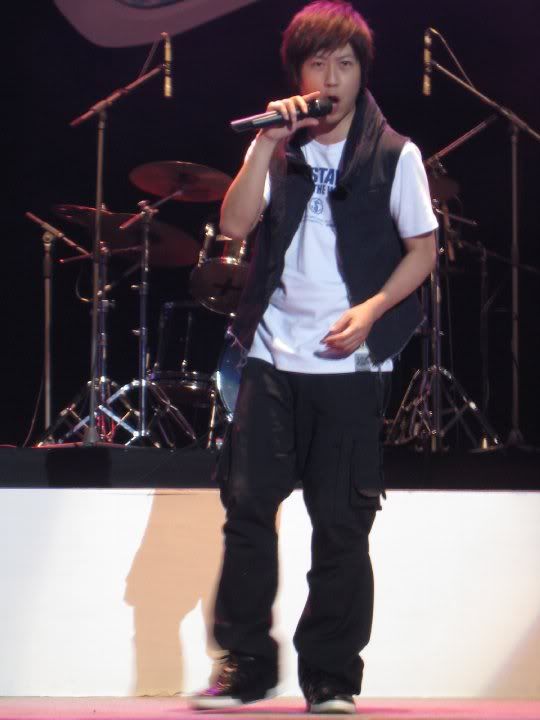 all photos by bloodbubble