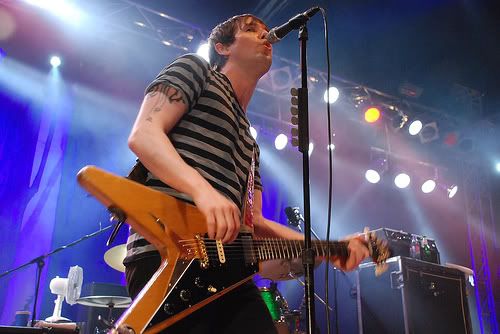 the original punk boy
Bangkok 100 Rock Festival is exactly a week away!
I'm rather excited. It's my first ever trip to the City of Angels (it's embarrassing to admit that I've never been there). Though Ash and the Manics won't appear onstage till way past sundown, we plan to get to festival ground in the afternoon so I hope weather won't be too hot there. At the last Ash concert in SG, Liz and I got baked in the sun! This time I'll remember to pack sunblock lotion.
Liza is getting our custom Ash tees printed LOL I can't wait to see them. I gave her the design I made with the Ash font from Twilight of the Innocents and Tim's Meltdown phoenix tattoo design on the back.
And I've got a new Ash banner. It's awesome, it's 5 feet long and it looks smashing! And it took me an entire day to make it from scratch!