Exactly a week after the kickass Ash concert in Singapore, my desk is still littered with Ash CDs and Ash songs are still playing non-stop on my CD player!
Cheers to dmh Dark Lord [Mark] from Ash for linking up my blog on the
official Ash website
on the Singapore concert reviews page - you have no idea how chuffed I am!!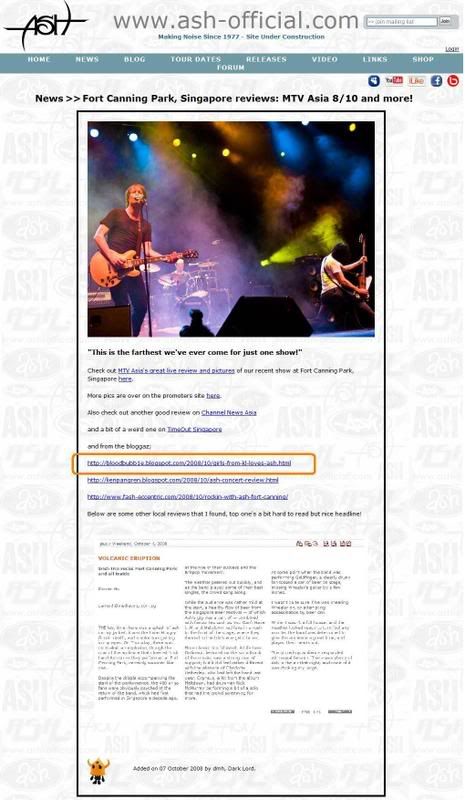 Mark has collated various reviews on last week's Singapore concert. Good job Mark! LOL. All the reviews were really favourable (notice how they all concluded with the exact same thing? Let's hope we don't have to wait another 10 years for the next Ash concert)
The review in Timeout Singapore is worth noting. Jonathan, the author of that review is clearly really upset that Charlotte is no longer in the band "The band now sorely lacks a focal point onstage (particularly if you're a heterosexual male), but more importantly their stage set-up looks empty" [WTF?!! My bro is no better than Jonathan, he refused to attend the concert cos Charlotte's gone]
I particularly like the line he wrote about Tim hehe - "Frontman Tim Wheeler, meanwhile, at 31 still betrays the wide-eyed charm of a college freshman who's unexpectedly won a 'Battle of the Bands' contest" And here's another one from the MTV Asia review - "Oh, did we mention that Tim rocked guitars like a dream as well?"
There's also an interview by MTV Asia here - absolutely hilarious!
"MTV: Do you think Charlotte's leaving has affected your music in any way? Like, are there new sounds that reflect Ash as a threesome now etc? Rick: Yeah. It's made it better. [Laughs]"
Let's not forget that Ash were in the first place formed as a trio. Charlotte joined the band in 1997 after the release of 1977. So they now have only a single guitarist and Rick fills in the gap as backing vocalist at live shows (though it seems they have problem playing double guitar songs live at shows now..) Charlotte had only contributed a pretty face, second guitar and a few lyrics *cough* Don't get me wrong, I like Charlotte and I think she rocks but I feel it's really unfair to write off Ash just cos their pretty girl guitarist has left the band.