Last week when I was in Singapore I walked into HMV at Citylink and asked if they had the new Oasis CD in stock. I was met with a blank look by the ignorant sales assistant (who I suspect was from the Chinese music section and have no idea who Oasis are) She went to the computer and checked but in the end all she could offer was "sorry dunno"
Last night bro pointed me to
CD WOW
, a UK online CD shop currently having a weekend sale and Oasis' "Dig Out Your Soul" is available for only £6.99 and postage is FREE!!!! Also available in their £6.99 sale catalogue are Coldplay's new album, The Verve's "Forth" (was tempted to pick this up - wonder if they are any good after they reformed), Keane's "Perfect Symmetry" (hmm maybe I should pick this up as well seeing I have their previous releases), Snow Patrol's "A Hundred Million Suns" (they've come a long way - I remember when they used to be a small-time indie band), Kaiser Chiefs' "Off With Their Heads" (each time I hear their name I am reminded of the song "Ruby" which was stuck in my head for the longest time!), Sharleen Spiteri's "Melody" (I keep forgetting that Texas has disbanded), and loads of other recent releases. £6.99 for a new release UK pressed CD is a steal!! Even a locally pressed copy would cost at least RM40. In addition to the Oasis CD, I also picked up Arctic Monkeys' sophomore album from last year, "Favourite Worst Nightmare" for only £4.99
The kind folks at CD WOW have given me a £10 cashback on my next CD purchase (to be used within 90 days) which will come in handy when I purchase Ash' "1977" deluxe edition next month :) What a great deal! Don't you just love this wonderful world of purchase power?
While waiting for the Oasis CD to arrive, I will be busy with my Manics' CDs in anticipation of Bangkok Rock Festival (am gonna blast my Ash and Manics CDs all month long till my ears start to bleed :P)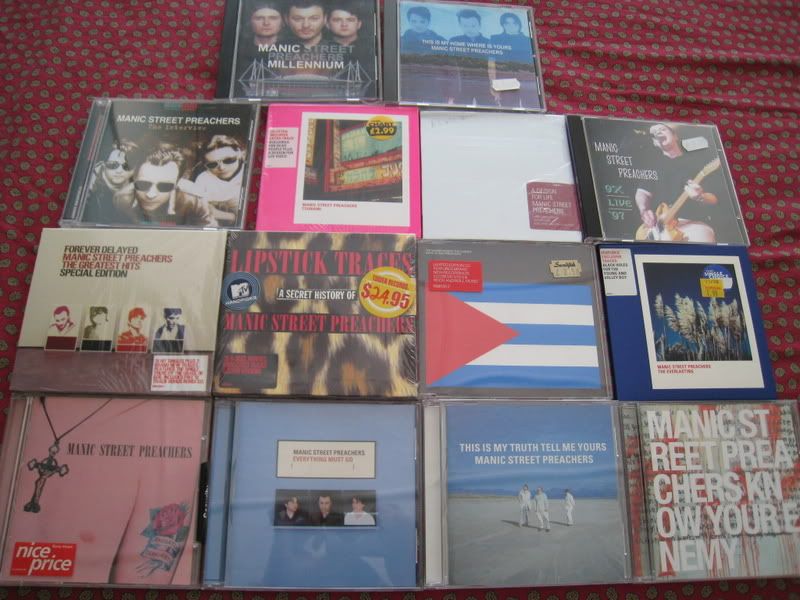 where's the Holy Bible??